Once the call has been recorded you are easily add notes to the searched call.  This could be comments for training, customer reference number or basically anything you wish.  
These notes can then be searched to allow quick and easy access to your recordings.
You can even automatically populate these fields using our API.
We have enhanced the search capabilities of our call recording solution by adding a notes section.  Notes or multiple notes can be added to a call to quickly help you to identify the call at a later date, this could be customer details, policy number or just some training notes you may wish to add. 
When you have found a call you can simply enter the text required. 
The icon in the notes column indicates this call has had a Note added.  Holding the mouse over the note will display its contents.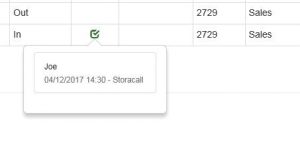 The notes are date and time stamped and also feature the name of the user who input them, you can search for any information contained in the notes via the search screen, this search field is not case sensitive and the note you search for can be any part of the word or sentence so you do not need to remember the exact note you added to the call.
Access to the notes feature is strictly controlled by the user profile, you can limit who can see notes, add notes, create and/or delete notes – with Storacall you have full control.
Get in touch to discuss how we can help you unleash the power of your voice.